"If You Want Hilarious,
Memorable, & Fun Team Building,
Team TuneUp Is The Answer!"
ARVE Error: src mismatch
provider: youtube
url: https://www.youtube.com/watch?v=f9DAch7HVy8&list=PLAkv5c2eP_nHeQ1jpQEcsemfnIMGiuxMk
src in org: https://www.youtube-nocookie.com/embed/f9DAch7HVy8?list=PLAkv5c2eP_nHeQ1jpQEcsemfnIMGiuxMk
src gen org: https://www.youtube-nocookie.com/embed/f9DAch7HVy8


You Can't Bore Them Into Bonding…
The most successful companies in the world all know it's important to do Team Building… But they also know something else: team building can be a flop if it's not engaging, memorable, and most importantly – FUN!
Don't waste your team's time, and don't have them come back from your next team building rolling their eyes and complaining. Give them a day that exercises communication, problem solving and collaborative skills, while allowing them to have a GREAT time they'll thank you for! At Team TuneUp, fun and effective team building events are our specialty!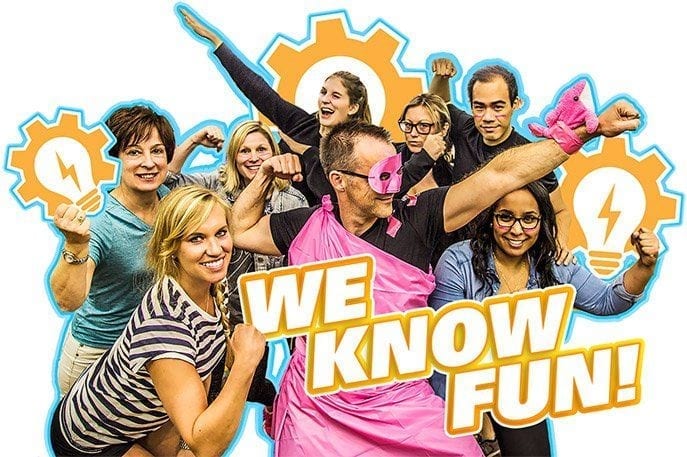 We have extensive experience in Team Building, Developmental Training and Event Facilitation, and we're trusted by some of the most successful companies in the world. (Click Here to see who)
Give your team an unforgettable day of team building, or work with them on topics like Communication, Behavior Style, Productivity, Execution, and more. Or let us work with you to help with your Corporate Culture, or develop a custom training.
We're your secret resource for creating a day of Exciting, Engaging and Effective Team Building!
There's nothing better than getting "high fives" from your team after a successful and fun day of training and team building. Call us for a free consultation at 1-800-908-8638, or fill out the form on this page. We'll be in touch shortly to discuss your needs and see if we're a good fit!
Microsoft

"Thanks a million... I would like to say what a fantastic event we had, most people voted it their best event to date!!! Our events coordinator Den Bradshaw is very easy to work with and adapted our event to our liking even at the last minute. I will certainly be recommending your group to my peers. Again thanks to Den and the team for a superb job."

Exxon Mobil

"I would like to say Thank You! Yesterday we had a blast. The boat building regatta was awesome. We got a lot of positive feedback from our colleagues. Den did a very good job maintaining the spirit of the participants and was very professional. He gave the best intro and closing speech, and managed to keep the timing so we ended on time. It was really the right decision to let the professional run our team building event! I am so glad we did it. Thank you!"

Shawnte P.

Google

"Thanks for all of your help with our team building event. I did a survey with my team and they loved the event and would totally recommend it to another team. :-)"

Boston Consulting Group

"I was skeptical that this would be just another "Covey Corporate Training" and be repetitive and only take one or two things away or reinforce past learnings. Well I am happy to say this was much more and was one of the most refreshing and best 4 hours spent during our 4 day meetings in Miami. To be honest, this would have been only better if we had more time. I have many take-aways and Den more than delivered. I would recommend Den to any organization and look forward to working with him on future events."

Melissa E.

Coca-Cola Bottling Co.

"Den, the team had a FABULOUS time and felt like they got out of it what we had hoped for. You and your team did a really nice job and we are grateful for all of your hard work. ...and thanks to you as well for all of your guidance and assistance on the prep work! I really appreciate it! Great working with you!"

Accenture

"Den Bradshaw and team did a fabulous job hosting our team event. Den is high energy and a perfect host to our group. Folks are still raving about this event!"

Gary W.

VP Partnership Development, Experian

"Thanks Den. Outstanding day. Really appreciate all you did for us. Be well."

"I can't thank you enough, Den. You went above and beyond for our company. You were truly a pleasure to work with and I cannot effectively articulate how much I appreciate all your efforts, especially considering the bind I was in!" - Marie Vinas, Experian

Sandie M.

Heineken USA

"Our teambuilding with you was a fantastic exercise and the team had fun with it. We achieved our AIM and goals, for sure. The photos are great as well. Thanks and best!"

EMD Merck Serono

"Den is a terrific facilitator he took a group that was tired and re-energized them."

Pierre T.

Concur / SAP

Hope you recover from one very likely most painful and tiring team building experience as French people tend not to stick to the plan. We had great time and I got excellent feedback. That was a unique way to close Ignite and I want to thank you for your patience and the quality of your session with us. Merci

Life Care Centers of America

"From the moment Den began, it was obvious he knew what he was doing and knew how to deal with crowds of that size. He didn't miss a beat, no matter what was thrown his way, and operated throughout the whole day with confidence, patience and class. All 300 participants seemed to thoroughly enjoy the competition, activeness and overall landscape of the event. Watching it all unfold slowly eased any tensions I had developed up until that moment, and I was able to enjoy the afternoon as well. I'd like to offer a big "thank you" to Den and his staff. The day truly went far better than I could have imagined!"

Laura H.

ITT Cannon

"I just wanted to say 'Thank You' for an excellent event, which really set an exciting and fun-filled tone for the rest of the meetings!

Den and his team did a fantastic job of rallying everyone from executives to field sales to engineers and finance folks from around the globe into a dynamic, intense and extremely memorable team-building event!

ITT Cannon is under-going a huge turn-around and creating positive momentum with such a great team-building activity is a big part of setting the tone for the exciting year ahead.

I appreciate all of your flexibility and adaptability to all of my 'crazy' requests and would be more than happy to be a reference for potential clients!"

QEP Resources

"Den altered the event, and the event we ended up with was exciting, engaging and very worthwhile. Den put in a lot of effort to make the event as exciting as it could be given the background of supervisors (all mechanically inclined). The ending result was a great team building event that left everybody in a positive mindset."

Jesuits Vocational Teams

"The events were sensational. Den, our coordinator and his two assistants did a wonderful job of executing the experience with folks who began as skeptical. He systematically changed the tone of the room, one activity at a time. This was money well spent. I recommend you 100%."

Shire Pharma

"Thanks for everything! We learned a lot about our team and had a terrific time during the process!"

Flemming J.

blu eCigs / Lorillard Tobacco

"Thank you for pushing through to provide a terrific program for our blu eCigs leadership team. I appreciate your contribution to our organizational growth. You set the right tone and laid good foundation for the meetings that followed on the next day."

Mark K.

Domino Amjet

"Just a quick follow-up on Fridays event. Everyone loved it! Excellent attitude and motivation from your people… Your team was helpful, motivating, and made it fun for everyone.. The event was fun, memorable, and spirited. This provided good teamwork for our group, and was just a great experience all around.Thank you!!"

Sabrena E.

Sr. Budget Coordinator, Norfolk Public Schools

"Our team is super excited about what we were able to accomplish with your support. You are a fantastic facilitator!! Please don't hesitate to share my contact information to provide a reference for you and your team. Your service is outstanding!!!"

Jill H.

BMO Harris Bank

"Thanks again for your help last week. The event was well received by our CEO and the comments I heard the following day were all very good."

Brian W., COO

Apollo International

"The event was very well received and people are still talking about it. Great job and I look forward to working with you again."

Evonne T.

Cameron International

"The event went very well! My team here had a great time and it was very memorable. Many thanks for your help and for putting on a great event for us!"

Taylor B.

Edwards Lifesciences

"Den, thank you again for putting together such an amazing team building event—we've gotten nothing but raving reviews about it!"